Improper Dryer Vent Line
Submitted by DavinStrand on Mon, 08/10/2009 - 15:31.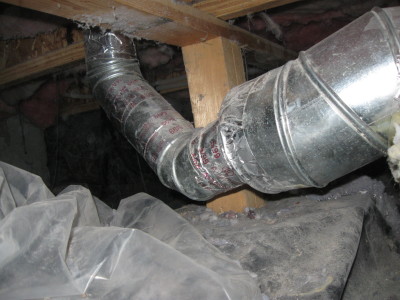 Improper dryer vent was noted on this Nampa Home Inspection. Vent line starts out as a 3" line and after the first elbow goes up to a 6" duct line. The line size is important to allow for proper air velocity to carry the moist air and any lint out and not settle in the line. By going to a 6" line the air flow through the line goes down and allow lint to build up, which they have had to clean on several occasions by evidence of the piles of lint on the ground. Lint buildup is a fire hazard and should be cleaned up.

Posted in